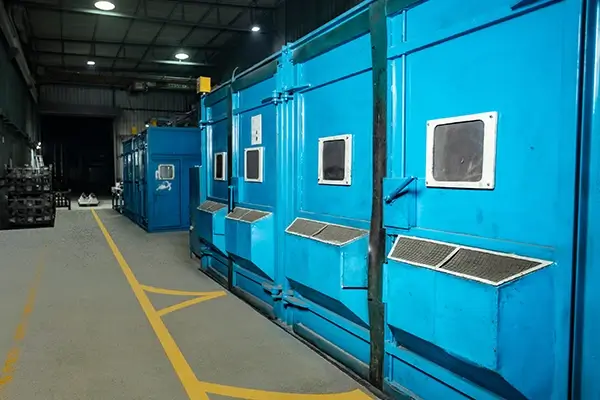 Equipped with In-house fettling, heat treatment, thermal spraying capabilities
Heat Treatment (CQI-9 Certified)
We also offer our heat treatment services specialised in the production of grey cast iron, spheroidal graphite iron. Our installations include heat treatment furnaces, which allow us to carry out these operations on site, without additional transport costs or timescales.
Heat treatment allows for improving and optimising the mechanical characteristics of our raw cast parts. We have 6 Bogie Annealing, Normalising and Stress relieving our equipment is managed by programmable PLC with treatment traceability.
Robotic Fettling
We use ROBO STUDIO Software to control the process. There are many benefits that come with robotic automation of grinding and finishing. Robots are inherently repeatable, which addresses inconsistencies in throughput and part quality. Further, robots can work much longer hours without breaks, contributing to higher overall throughput levels.
DISA Shotblasting, Tumblast and nozzle blast
Read More