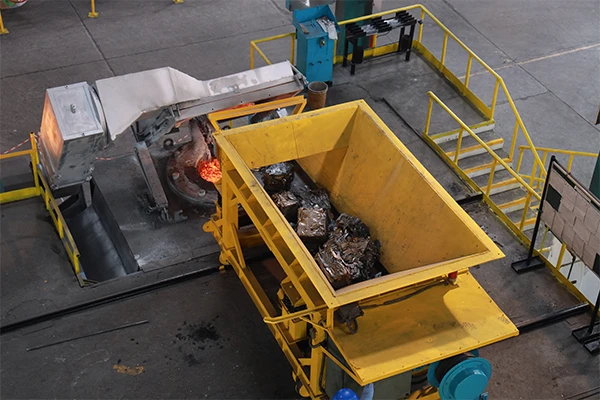 Excelling through the best practices with Dual and Tri track furnace systems
Our Dual and Tri-track Induction furnaces are energy efficient and capable of handling multiple grades of ductile Iron. The vibro chargers for melting use recovered materials from metal processing industries to lessen the strain on natural resources.
Cored wired treatment is used for magnesium treatment from which SG grades are obtained. As the melting progresses, samples are examined at multiple check points to ensure that molten metal meets all the desired specifications. To ensure that the quality of the castings is not compromised, we use I4.0 tools and techniques at various stages.
We have two auto pours in 2070 line of 1.5 ton each ladle capacity and two auto pours in 2024 line of 750 kg each ladle capacity.
During the pouring process, the molten metal undergoes inoculation, a very important step in counteracting shrinkage defects and therefore enhancing the properties of the castings. Regular and important quality tests are then carried out on the material with regard to its nodularity, temperature, chemical analysis and ATAS thermal analysis.
Read More